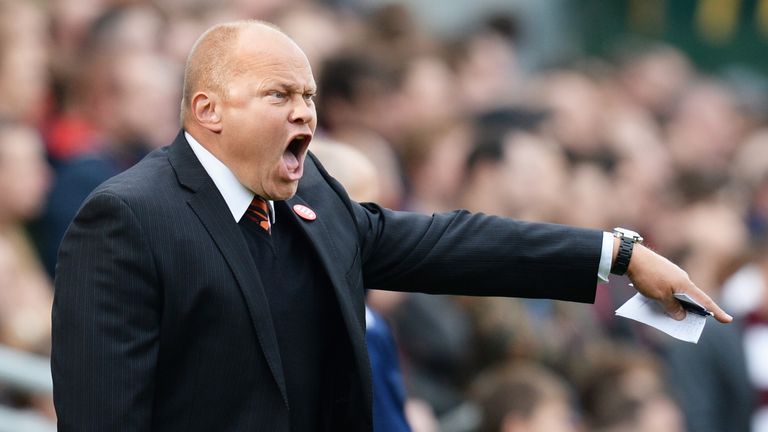 This may be the happiest Mixu Paatelainen has looked at any point as Dundee United manager
"Dundee United face D-day" say the BBC. The manager says "it would be an unbelievable achievement to stay up".
"I have played in European ties and I have played in cup finals, but this is bigger than any cup final I have played in"
says m
idfielder John Rankin ahead of tomorrow's home game with Kilmarnock.
Now, that last statement is just a great big fib. A home game against Kilmarnock in January is not 'bigger than any cup final' and never will be. It's a grandiose cliche that's really meant to keep the fans onside, to prove the players do care (and perhaps to convince the players themselves).
So too the talk of a great big team meeting this week (given the size of the squad, they probably had to hire out a small theatre for it) where, according to Rankin, "we aired a few grievances", there were arguments, and some players were "battered and bruised" - he doesn't say if he meant this literally. As a result, "training this week has been at a different tempo, a different standard". Aye, sure.
Still, the Killie game is a big one...though so has every United game for weeks now. But we're now three months into the Mixu Era at Dundee United. This seems like a reasonable point to take stock on how things are going.
Well...
When Jackie McNamara was punted, United had won just one league game and amassed just five points. Under Mixu Paatelainen, they have, er, won just one league game and amassed just five points.
Hmm.
If the season had started when Mixu had just taken over, they would still be bottom - even behind Hamilton Accies who in recent months have been defending like a pub team who have just come out of the pub. Only one point adrift when the big Finn pitched up, the gap to eleventh is now a whopping fourteen points. There are just sixteen games to go.
Their next four games are against the four teams immediately above them - Kilmarnock tomorrow, then Partick Thistle, Hamilton and Motherwell in succession. If they're going to dig themselves out of this deep, deep hole, they're going to have to win these games.
Then again, I said that in November and December, where they had a run of favourable matches; they lost to Accies (after leading), drew with Killie (who played for more than an hour with 10 men), lost to Partick and drew in Inverness (where they led twice and conceded an injury time equalizer).
Make no mistake, October is a tough time for a new manager to take charge. For nearly three months Mixu had to rely mostly on Jackie Mac's squad, with transfer window rules preventing him bringing in anything other than free agents. In this case, there wasn't even the traditional New Manager Bounce, where it seems that even appointing Coco The Clown leads to a short-term improvement in results.
United did win Mixu's third match in charge - against Ross County - but that came in between a drubbing at Celtic and an embarrassing cup loss at Easter Road. That victory over County remains their only one in twelve league games. The stats are grim: ten goals scored in that time (only six from open play), against twenty-five conceded. Aside from the County game, they've scored first in five other matches, from which they've come away with a point.
What can we deduce from this?
Well, there have been no signs whatsoever that Mixu can get more from the players he was bequeathed than his predecessor managed. It would be a stretch to say that anyone has played well this season, under either regime; perhaps the exception is Billy Mckay, who was signed on loan at the end of August, but even the Northern Irishman has shown a hesistancy in front of goal that was rarely evident in his last two years at Inverness.
Perhaps this can be taken as evidence that McNamara left behind a dreadful squad - a suspicion many of us had at the start of the season. Too many quality players had left in 2015; too many of those remaining were youngsters with plenty of potential but who were essentially unproven; of the veterans, many seemed to be well past their best; the signings last summer were risky at best, and only Mckay has worked out. Rodney Sneijder, Aaron Kuhl and Adam Taggart are already gone, while Darko Bodul will leave imminently. Mark Durnan and Coll Donaldson are both young and may be salvageable, but when called upon both have been dreadful.
But even despite transfer window limitations, Mixu has brought in half a team - and so far, they haven't been any better than the players they replaced. Guy Demel's years of experience didn't stop him getting stupidly sent off in the derby. Florent Sinama Pongolle was injured a few minutes into his first start. Gavin Gunning can take sole responsibility for a number of goals conceded on his watch, and part of the collective responsibility for plenty more. Riku Riski has only started one game, but I'm not sure he even touched the ball in that match with Celtic.
Most damning of all is the situation in goal. United had to wait six weeks for Eiji Kawashima to get a work permit, so they could upgrade from the terrible tandem of Michal Szromnik and Luis Zwick between the sticks - picking between the two is like asking someone to choose between eating dog mess or a bowl of vomit for their dinner. And yet Kawashima blundered in his debut against Dundee with a punch that wouldn't have hurt a butterfly, and wasn't impressive against Celtic (though neither were his defenders). Expect the word 'kamikaze' to be thrown around a lot over the next few months.
Maybe today's new boy, West Ham loanee Kyle Knoyle, will improve the situation at full-back - he's a direct replacement for Ryan McGowan, who has legged it back to China - but it's not an ideal environment to parachute a raw teenager into. It's hard to see how he could make the backline look more fragile than it already is, though.
McGowan wasn't the only defender who struggled badly, and part of that is surely tactical. Mixu has for weeks deployed a back three with wing-backs, The logic is obvious - that's effectively five defenders on the pitch, which should at least tighten things up - but the experiment has, in general, been a disaster. None of them ever look comfortable. Celtic exposed the problems beautifully last Friday, getting in behind the wing-backs frequently as the centre-backs were unwilling to move across to provide cover, and getting between the lines as no-one was willing to step out to close down the space. Add in the frequent individual errors which cost them goals even when there are more defenders playing, and all its done is reduce the side's attacking threat. The stubborn persistence with this failing tactic is bizarre.
And whilst it is dangerous to question Mixu's man-management just on his comments to the press, his constant criticisms of his players in public surely can't be helping. Within ten days of taking over he derided one performance as "absolutely rubbish". He cancelled time off during the November international break as punishment for further poor showings. He made it clear quickly that he intended to replace most of the players (a tactic that backfired badly on Terry Butcher at Hibs). Do the comments about training this week reflect badly on his ability to motivate too?
The bottom line is that United are doomed to relegation, unless someone (Accies, perhaps?) has a Hibs-esque collapse...and even then they will probably need about twenty more points just to finish eleventh. Not impossible, but not likely, especially given the current frailties. And if the arse doesn't fall out of any else's season, another thirty points might not be enough.
The rest of the season is as much about proving that Mixu is the right man to take them back up from the Championship. It's still early days, but he's not made a compelling case so far. Again, Butcher and Hibs come to mind. Have the players bought in to his plans? Will they ever?
Still, they're not the worst team in top flight history - not yet anyway. Another eight points would save them from that distinction. And if fans need some solace, they should rewind to 2000-01; Alex Smith's side had even fewer points at this stage of the season. They stayed up. What price a repeat?
Lawrie Spence (LS) has ranted and spouted his ill-informed opinions on Narey's Toepoker since September 2007. He has a life outside this blog. Honestly.